Key Of Magic
A downloadable game for Windows
Welcome to Key of Magic ! (Si vous êtes français, rendez-vous en bas de la page)

Key of Magic is a rogue-like adventure game. It will challenge your keyboard dexterity, since your only way to attack is to type your spells. Explore a donjon full of monsters, bosses, items and mysteries. Your reflexes and your ability to adapt will be key to defeat the randomly generated levels of this game.

In Key of Magic, you are a magician student, and it's the D-Day: your final exam is here! Throw yourself in this trial side by side with Bob, your beloved familiar. Even if you forgot to study, it's never too late. Learning by doing has always been your greatest asset.
This project was made by a team of 4 people:

BOYER Arthur
CHAMBON Aurélien
DAS NEVES Antoine
LE TAT Gauthier
It was done within the context of Télécom SudParis second year project (Cassiopée 2020), supervised by SIMATIC Michel.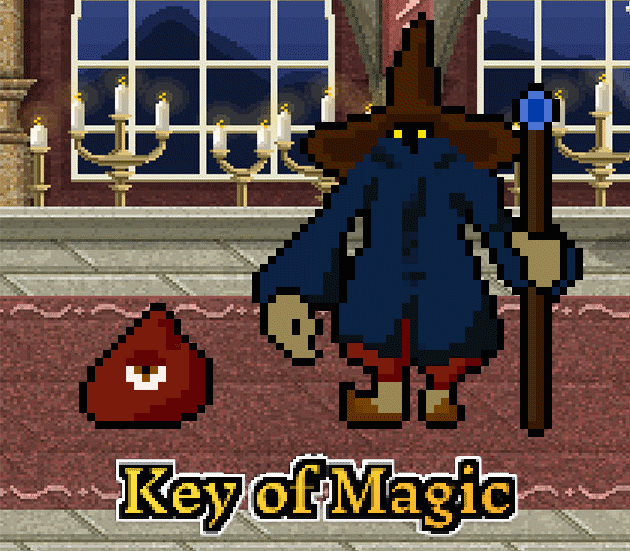 ~~~ Version Française ~~~

Key of Magic est un jeu d'aventure rogue-like qui mettra à l'épreuve votre dextérité au clavier. En effet, votre seul moyen d'attaquer sera de taper vos sorts. Progressez à travers un donjon rempli de monstres, de boss, d'objets et de mystères. Votre réactivité mais aussi votre capacité d'adaptation seront essentiels pour venir à bout des étages générés aléatoirement.
Dans Key of Magic, vous incarnez un étudiant magicien, et c'est le grand jour : votre examen annuel est arrivé ! Lancez-vous dans cette épreuve, accompagné de Bob, votre familier préféré. Même si vous n'avez pas révisé, il n'est peut-être pas trop tard. Apprendre sur le tas a toujours été une de vos grandes forces.
Ceci est un projet développé par une équipe de 4 personnes :
BOYER Arthur
CHAMBON Aurélien
DAS NEVES Antoine
LE TAT Gauthier
Il a été réalisé dans le cadre du projet de deuxième année à Télécom SudParis (Cassiopée 2020), et encadré par SIMATIC Michel.


Install instructions
All that's left to do is extract the .rar archive and run the KeyOfMagic.exe file !
~~~
Il ne vous reste plus qu'à extraire l'archive .rar et lancer le fichier KeyOfMagic.exe !